'Noble fibre from the heart'
Kia Ora is a family owned Merino wool farm at Winslow, Victoria, Australia, proactively committed to Ethical, Sustainable, Profitable (ESPwool®) wool production.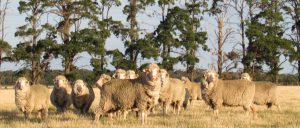 Kia Ora is in the Western District of Victoria, Australia, an area renowned for its high-quality pasture and wool. We are 20kms from the Southern Ocean and 70 from the Grampians, on the traditional land of the Gunditjmara people. With some of the best grazing land in Australia we are 74 meters above sea level, with volcanic soils over limestone, enjoying mild summers and 750 mm rainfall annually (May- October). By employing the latest genetic techniques and animal welfare standards the soft, fine wool produced represents the culmination of education, generations of knowledge, breeding expertise, dedication and innovation.
Our family works as a team, enhancing our ESPwool® production business, as we care for the earth, animals and people.
Our great, great grandfather, Patrick Finnigan, was the son of a tenant farmer in Ireland. He was 'assisted' to emigrate with the 'clearances' by landlords in the 1860's. He lived in New Zealand for a few years, worked as a carrier and eventually became a 'selector' on a farm near Heathcote, Victoria, Australia. Selectors paid £1 per acre for half of an allotment of land, and paid rent on the other half. After seven years they could obtain title to the land, by paying the balance and making certain improvements. Patricks legacy is generations of Australian Merino sheep farmers. We have all appreciated and emulated his courage and endeavour.
The Kia Ora homestead was built around 1904, in the 1950's 'Soldier Settlement' farms were divided off the back country and a new woolshed built.  Kia Ora is a Māori word, literally meaning: be well! Kia ora can be used to wish somebody life and health—the word ora used as a noun means "life, health and vitality". It embodies our mission.
Please enjoy this website and contact us if you have any queries.